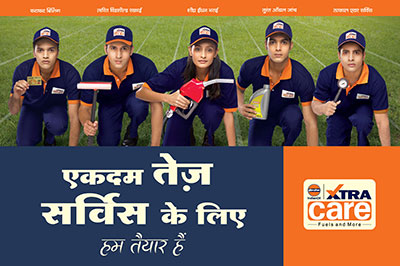 As the commercial enterprise with the largest customer interface in India, IndianOil has the onerous task of reaching precious petroleum fuels to every nook and corner of the country through its network of over 46,500 customer touch-points, surmounting the challenges of tough terrain, climate and accessibility.For the convenience of large-volume consumers like the defence services, railways, state transport undertakings and core sector industries, IndianOil has 6,520 dedicated pumps in operation at their doorstep to ensure timely delivery of products and efficient maintenance of inventory.
For IndianOil, all customers, bulk or retail, are equal and have the right to quality products and efficient services. With this belief, the IndianOil team reaches Indane LPG cooking gas right up to the doorsteps of 11 crore households in over 6,250 markets through a network of over 9,550 distributors. IndianOil's Aviation Service commands a 59.3% market share in aviation fuel, serving national and international flag carriers, private airlines and the Indian defence services with equal efficiency.
We "Vangili Fuel " are very proud to the one of the best dealers, While serving lots of customers from diverse segments, IndianOil has also built up a portfolio of leading energy brands, including Indane LPG cooking gas, SERVO lubricants, XTRAPREMIUM petrol, XTRAMILE diesel, PROPEL petrochemicals, etc. Besides the corporate brand, both SERVO and Indane are over 50 year old brands and have earned the coveted Superbrand status.
Feel free contact us! Its our pleasure!
Subscribe to our Newsletter